Commercial Air Conditioning Repair Company
Having AC in Florida isn't a luxury, it's a part of your everyday bare necessities. Call an Alvarez technician to take care of all your commercial air conditioning repair needs.
Request Service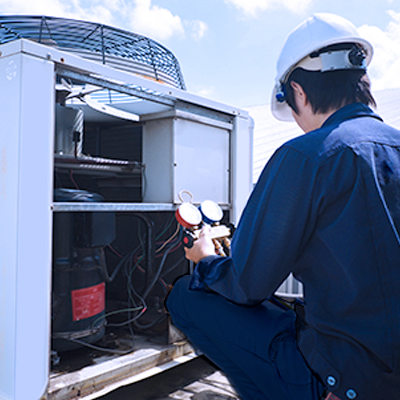 Commercial Air Conditioning Repairs
If you have ever been stuck with an air conditioner that decides to stop working? You know how unpleasant that can be. We are committed to making sure that your air conditioning unit works throughout your business day and throughout the year. We have certified technicians to tackle any problem with your AC unit that might pop up along the way.
In addition to fixing and installing air conditioning units, we are also skilled in fixing heaters, monitoring your indoor air quality, and keeping your indoor air ducts clean. If you are concerned about the quality of the air in your business, let our technicians get to the root of the problem.
Our Services
Your Trusted Commercial Air Conditioning Repair Company in Tampa  
As your premier commercial air conditioning repair company in Tampa, we understand the importance of keeping your A/C running right all year long. To ensure it does, we go above and beyond in providing all the maintenance, repair, and replacement services you could need.
Our team is always ready to swing by upon receiving your call – or you can set up recurrent visits to complete key A/C services on a regular schedule. Either way, here's a look at how we can help keep your commercial building cool and comfortable all throughout the year.
Our Commercial Air Conditioning Repair Services
Is your building not getting down to the right temperature or has your A/C stopped working altogether? Then, it's time for a visit from your commercial air conditioning repair experts in Tampa.
During our visit, we will complete an inspection to check for repairable issues. We may also need to use our accurate diagnostic tools to pinpoint the problem. We can then replace the damaged parts to restore the function of your A/C unit.
Depending on our findings, we may need to replace or repair the:
Condenser unit

Evaporator coil

Capacitor

Thermostat

Air ducts
Repairs go smoothest when problems are caught early, so report any issues with your A/C right when you notice them. We'll come right out to see what we can do, potentially saving you money on the upkeep of your HVAC system.
Air Conditioner Stop Working? We Do Replacements, Too
We always strive to repair A/C units when possible, but sometimes, the internal parts get too damaged or the unit is simply too old to keep going. If that's the case for your air conditioning unit, you can count on our commercial air conditioning repair company to help you find a great replacement.
We will share all our knowledge about the top A/C brands, like:
Trane

Mitsubishi

Daikin

McQuay

Carrier
Once you find a unit that suits your budget and building needs, our team will expertly install the A/C system for you. Our installation services ensure that the A/C works right from the very start, allowing you to enjoy all the benefits without the hard work.
Our A/C installations always come with a protective warranty that helps protect your investment for the long term. If you have any problems during that warranty period, please let us know and we'll come by to fix it.
Prevent Problems with Regular Air Conditioning Tune-Ups
Whether you just had an A/C unit installed or want to keep your current one in good shape, have our team complete regular air conditioning tune-ups. With timely preventative maintenance services, it's possible to avoid situations that might otherwise result in damage to internal parts.
During our maintenance visits, we may need to:
Clean out the air ducts

Lubricate the moving parts in the motor

Remove water from the drip pans
We will also fully inspect all the major parts, including the evaporator and condenser coils, plus the belt, pulleys, and electrical connections. If we find any issues, we'll let you know, so they can be dealt with in a timely manner.
Time for Commercial Air Conditioning Repair Tampa?
Whenever you need commercial air conditioning Tampa FL, call 813-655-7520 to speak with our team at Alvarez Plumbing & A/C. We will help you find a great time for our technicians to come down and provide a free estimate. When you call, please let us know if you need service on an emergency basis and we'll send someone over right away. We look forward to helping you keep your business cool and comfortable, so please feel free to call any time.
Latest Posts
Ready to Schedule an Appointment?
Comments are closed.