Commercial Plumbing Repair Company
Alvarez Plumbing is the trusted commercial plumbing repair company. We offer many plumbing services for commercial plumbing projects. With more than 40 years in the plumbing business, we have seen it all and can handle it all!
Request Service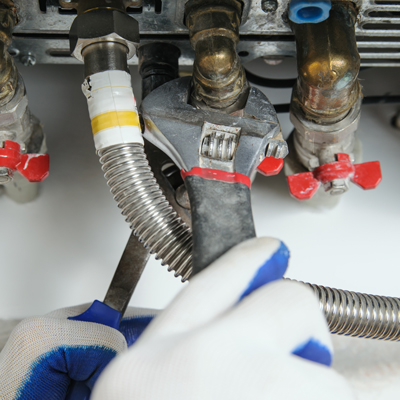 Commercial Plumbing Repairs
If you are having trouble with your plumbing at your property, leave it to one of our expert technicians to help. We offer many plumbing services for commercial plumbing projects. With more than 40 years in the plumbing business, we have seen it all and can handle it all! We have a deeply knowledgeable pool of licensed and professional plumbers on staff to take care of your routine maintenance or emergency plumbing, day or night, with rapid response times. If you're interested, take a look below at some of the more detailed descriptions of our services.
Commercial Plumbing Repair Company You Can Trust
It's vitally important that you hire a plumber with experience, integrity, and a reputation that you can trust. After all, a poor plumbing job can lead to leaks, structural damage and time and money lost. The exceptional plumbers at Alvarez Plumbing & A/C provide plumbing services you can trust.
Commercial Plumbing Services For Every Need
Our commercial plumbing services are top-notch for commercial properties just like yours. Alvarez Plumbing & A/C focuses on offering a range of services for clients. Below are some of the services that our professionals can provide:
Repair of damaged or leaking pipes. If your pipes are leaking or damaged, we can use specialized technology and all the most modern methods to locate the leak and make repairs. We'll do the best we can to make the repairs as noninvasive as possible, to cause the least disruption to your business as possible.

Installation of new plumbing fixtures. Our professionals will provide installation of new plumbing fixtures including new sink (commercial bathroom or kitchen), new toilets, new shower or bath faucets and more.

Repiping services at old facilities. After many years of use, pipes can begin to deteriorate. Our repining services can restore your commercial building to its former functionality, and that can improve the value of your commercial property overall.

Toilet stoppage. A toilet stoppage can stop your business in its tracks! Call us to get your toilet unclogged as soon as possible.

Pipe bursting repairs. A burst pipe can be a big problem – especially if the water is flowing freely into your commercial property. It's vitally important to get this problem addressed as soon as possible. Call the professionals who know how to help.

Directional boring. Our low-impact directional boring methods help commercial property owners install piping via a trenchless method.

Backflow preventer installation. We install backflow preventers to keep your business in compliance with local codes and regulations.
If you don't see the services you need on this list, contact us to find out whether we can help. We're here to help!
What to Look For In a Commercial Plumbing Repair Company Tampa
Knowing what qualities to look for when you're seeking a commercial plumbing company can help you find a company that will perform quality work. Below are some of the most important characteristics found in commercial plumbing companies with integrity.
Excellent customer service. Our customer service practices put customers first. We provide customer service representatives who answer the phone politely, respond to inquiries quickly, and who have the tools to help you schedule your plumbing appointment quickly and efficiently.
Experience. The more experienced your commercial plumbing company, the higher quality work you can expect from them. That's why Alvarez Plumbing & AC is such a great company to hire – we have forty years of experience performing commercial plumbing services in Tampa!
Professionalism. Good commercial plumbing services display professionalism, with policies that benefit customers and training for plumbers that help them serve customers better. The signs of professionalism can be hard to spot until you know what you're looking for. A good commercial plumbing company will have a professional website, good phone manner, and will do what they say they'll do.
Reliable plumbers. Did the plumber show up when they said they would? Did the work cost what they said it would cost? These are all signs of a reliable plumbing company. Don't work with plumbers who can't show up on time, who don't communicate when they'll be late, and who try to change the cost of the work at unexpected times.
References. Before hiring any commercial plumber to perform a large plumbing job on your property, check their references to ensure that previous customers had a good experience when they hired that plumber.
Transparent Billing Practices
Transparent billing practices are important. Before you sign a contract or hire a plumber for an invasive and long-term plumbing project, it's important to ensure that you know how much the work will cost, and that it will fit in your budget. Getting the cost in writing is the best way to ensure that you won't be hit with unexpected fees and costs.
At Alvarez Plumbing & A/C, we're happy to provide our costs in writing. We'll also be happy to explain any language that you might have questions about.
Hire the Best Commercial Plumbing Repair Professionals in Tampa
At Alvarez Plumbing & A/C, we're proud of our reputation for providing the best plumbing services to commercial businesses in Tampa. To get started with your commercial plumbing project in Tampa, call today to make an appointment. 
Ready to Schedule an Appointment?
Comments are closed.