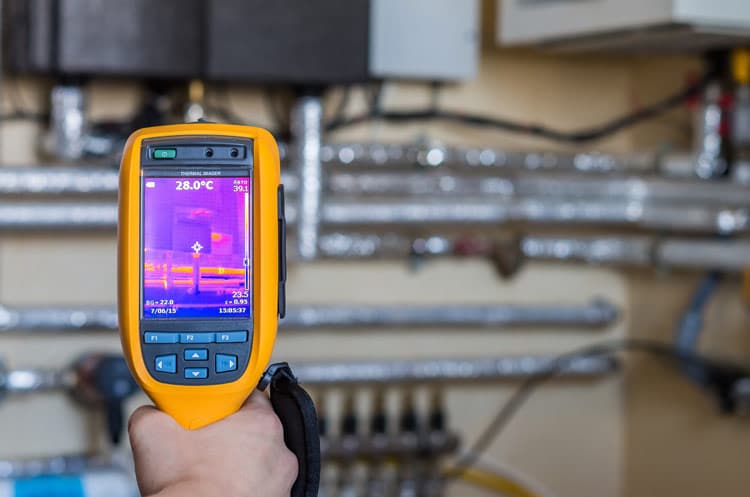 Water leaks resulting from broken pipes and faulty plumbing can lead to considerable damage. There are various factors that can cause pipes to corrode and leak. Failing to use leak detection to identify a problem or risk factor that may place great stress on your system can increase your utility bills, lead to mold growth, and result in costly water damage.
You can count on Alvarez Plumbing to provide accurate water leak detection services. We use the latest technology to locate even the smallest leak.
What causes hidden water leaks?
Water pressure, chemistry, and temperature all play a role in reducing the integrity of your pipes over time. Low temperatures can cause even new pipes to burst under pressure. The plumbing in older homes and properties is often at even greater risk of leaking and will require professional resources to make sure all areas of the problem are addressed.
Our leak detection services identify issues before they have the opportunity to develop into larger, more costly problems.
Leaks that go undetected can do far more than just increase the cost of your monthly water and utility bills. Leaking pipes concealed behind drywall or flooring can introduce moisture into your home that can result in extensive water damage or a costly and even dangerous mold infestation.
How are leaks detected?
While standing water near exposed pipes and fixtures is a clear sign of a leak, it can be difficult to notice leaking behind walls and under floors. In some cases it can take several months for the effects of the leak to become apparent (higher water bill, wet spots throughout the home, etc.)
Alvarez Plumbing has the right equipment and expertise to find these hidden leaks. We will perform a test that measures the water flow rate and output of fixtures against the reading shown on your home's water meter. Even a small leak that goes undetected can lead to extensive water damage or increase the risk of mold growth.
How can you avoid leaks in the future?
Regular and timely drain cleaning to take care of clogged or backed up drains can decrease stress on your plumbing system and reduce your risk of leaks developing from damaged pipes.
Scheduling a leak detection test with our plumbers upon noticing condensation on or around your fixtures is an effective way to avoid hidden leaks. Our professional team provides the testing and assessment services needed to accurately identify water leaks in their earliest stages.
Ready to Schedule an Appointment?
Comments are closed.