DUCTLESS SPLIT AIR CONDITIONING AND HEATING IN TAMPA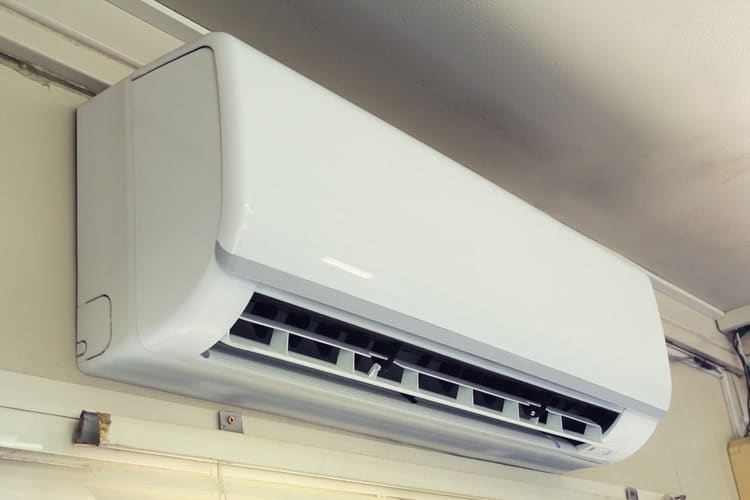 If you're looking for ways to beat the heat and keep your home cool during the dog days of summer, look no further than ductless split air conditioning. A relatively new kid on the block when it comes to heating and cooling homes, the mini split ductless air conditioner has a lot to offer homeowners. However, it is wise to explore potential pros and cons when making purchasing decisions. These are a few potential strengths and weaknesses to consider when it comes to ductless split air conditioning.
How Ductless Split Air Conditioning Works
Unlike traditional central air conditioning units, ductless split air conditioning does not travel through ducts to deliver cooler air to certain zones within the home. Instead, ductless split air conditioning is ideally suited for zone cooling, allowing each room to meet its individual cooling needs without suffering cooling loss as the "cooled air" travels from one room of your home to the next.
It works by installing an indoor unit that can accommodate up to eight indoor air handlers, creating eight cooling zones within the home from one unit. The challenge is identifying the correct size of the unit for each zone within the home. If you choose one that is too small, it will not be able to meet the cooling demands of the zone. If you choose one that is too large, it will constantly cycle on and off, which can reduce the expected life of your unit.
Benefits of Ductless Split Air Conditioning
There are plenty of benefits to consider when it comes to ductless split air conditioning. One of the most prominent benefits is the energy savings you can enjoy from this type of air conditioning. But there's more to the story than the savings on your cooling costs because many modern ductless air conditioning units can also be used to heat your home at even greater savings. Eliminating ducts alone can reduce energy losses by more than 30 percent for the average homeowner. However, using your ductless split air conditioning unit to heat your home in winter offers impressive energy savings of up to 60 percent when compared to most electric radiators.
Ductless split air conditioners are also easier to install than central air conditioning – even before you consider installing ductwork in your home. That being said, it is often wise to use highly trained professionals to perform the installation to ensure maximum efficiency, proper placement, and to reduce the risks of installation-related problems or accidentally voided warranties.
Another benefit to consider with ductless split air conditioning, especially when used for heating your home, is that you do not need to invest in costly delivery or storage of heating fuel to get you through the winter. With the energy savings, you might even discover that it doesn't take long for your ductless split unit to pay for itself.
Potential Drawbacks of Ductless Split Air Conditioning
In the considerations category, one of the first that comes to mind is that these units do not blend in with your décor as seamlessly as most central air conditioning units that have small grates that allow air to pass through the various areas of your home through ducts that are hidden behind walls and have little, if any, impact on your décor. While many will agree that ductless split air conditioning is more visually appealing than window units and freestanding portable units, they may still present a problem, aesthetically speaking, for some homeowners.
The other potential drawback of the ductless split air conditioner that is an elephant in the room for many homeowners is the upfront costs. The unit itself costs considerably more than a window unit and slightly more than central air conditioning (without the added costs of installation and ductwork, of course). It is the upfront costs that make ductless split air conditioning prohibitive for many homeowners who would otherwise gladly embrace the trend. However, energy savings help to quickly make up for those costs and many communities offer rebates and incentives to encourage homeowners to make energy-efficient upgrades to the home.
Is Ductless Split Air Conditioning Right for Your Home?
As with most things in life, there are situations that are better suited for ductless split air conditioning than others. This may be an ideal choice for you in any or all of the following scenarios.
You're addressing dead zones within your home where your existing heating and cooling is insufficient.

Your family has diverse needs when it comes to temperature and comfort zones.

Your home doesn't easily accommodate the ductwork necessary for central air conditioning.

You aim to cool and/or heat a new addition or converted room within your home.

You're interested in reducing cooling costs by cooling only a few key rooms within your home.
Regardless of the reason you are considering ductless split air conditioning, it is almost always better to seek professional guidance when choosing the size of your units and for the installation process. Contact Alvarez Plumbing & A/C today to learn more about ductless split air conditioning and to help you decide if that is a viable option for your unique cooling needs.
Comments are closed.